How Do Reverse Cycle Air Conditioners Work?
A ducted reverse cycle air conditioner is a system in which the refrigeration cycle can be reversed from the indoor unit to the outdoor unit – meaning it can be used for heating as well as cooling. Essentially, when this type of system is put into heating mode, the coil in the indoor evaporator unit switches over and becomes a condenser, giving off heat. The outdoor unit becomes the evaporator, and discharges cold air (even colder than the outside temperature).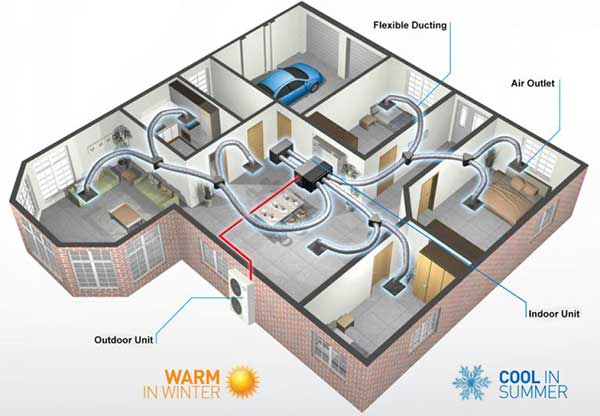 Are They Cost Effective?

Reverse cycle air conditioning is relatively energy efficient, compared to some other models. If you're looking for a cost-effective way to stay warm in winter and cool in summer, consider a ducted reverse cycle system.
Looking For More Information! Why Not Ask Us For Help?

At the Air Conditioning Solutions, we supply only the highest quality reverse cycle air conditioning systems; tried and tested brands including Daikin, Fujitsu, Panasonic, Samsung, Mitsubishi and others. If you'd like to get a competitive, value for money quote on ducted reverse cycle air conditioning in Brisbane-Gold Coast-Sunshine coast, from an expert team who know ducted air inside out, call us now.
Ducted systems – Overview

• A ducted system is a ceiling concealed unit that distributes cooling or heating, through ductwork, to multiple areas.
• Ducted systems are similar to a split system where they consist of one indoor unit to a single outdoor unit.
• They can have multiple zones, easily controlled from a central, wall mounted controller.
• A variety of outlet grilles are available from your standard square grille to stylish, slim line linear grilles.
• Ability to cool or heat more than one area, inconspicuous outlets and low running costs, make ducted systems a popular choice.
For more information get in touch with us today: info@airconpeople.com.au, we look forward to hearing from you. or call us on 07 3186 0778